24th Groton Labor Day 5K and 1 Mile Fun Run
When: September 5, 2022
Where: Groton High School, 400 Peru Rd, Groton, NY
Race Day Schedule:

| | |
| --- | --- |
| 7:30-8:45 am | Race Day Registration/Packet Pickup |
| 9:00 am | 1 Mile Fun Run |
| 9:30 am | 5K Race |
Amenities:
Parking, restrooms and showers will be available near registration outside the high school gym. Post race refreshments.
This race is sponsored by, and is a fund raiser for the Groton Varsity Cross Country Program. All proceeds benefit the Girls' and Boys' Cross Country Teams. Every year's proceeds have helped fund trips to other competitions and to purchase team apparel.
Registration
Entry fee for those pre-registered prior to August 26 will be $18. The 1 mile Fun Run is free.
Registrations received after August 26 and race day will be $25. Registrations not received by race day will be considered not sent and you will need to register on race day.
*** Team Discounts Available (5+ athletes ⇒ email Scott)
*** Fun run competitors can purchase a T-Shirt for $8 ⇒ Send order with application. Quantities are limited!
Register online at RunSignUp.com

Course:
The course follows village streets (2.5 miles), an old railroad bed (0.5 miles), and finishes on the high school track. Some flat terrain, with a few steady inclines and declines, and one short, steep hill just before the one mile mark.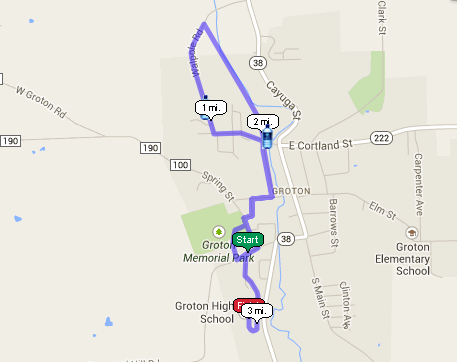 Interactive map and more route information at: http://www.usatf.org/routes/view.asp?rID=12258
Awards
Ribbons to every finisher in both races
Top 3 and youngest in the Mile Fun Run
$25 gift certificate to top male and female in 5K
Plaque to top 3 male and female in 5K
Plaque to top Masters male & female in 5K
Medals to the top 3 in each age group:
<15, 15-19, 20-29, 30-39, 40-49, 50-59, 60+
T-shirts to first 100 entries received
Course Records
Overall Male:
16:06 Stephen Getman (2000)
Masters Male:
17:03 Adam Engst (2012) and Casey Carlstrom (2006)
Overall Female:
18:46 Murphee Hayes (2006)
Masters Female:
20:19 Charlene Lyford (2006)
Trivia
Largest field - 173 (2010)
Most wins (female) - 4: Murphee Hayes (2004-2007)
Most wins (male) - 4: Mikhail Kern (2016-2019)
Most finishes - 20: Steve Gallow, Jamie Saroka
Youngest runner (5K) - 4 years old: Adelin Strange (2018), Ryker Strange (2019)
Oldest runner (5K) - 76 years old: Joseph Familo (2000)
Wettest race - 2011
No race held - 2020 (COVID-19)
Triple Town Grand Prix Series
The Triple Town Grand Prix, which was first held in 2017, consists of three 5K races on consecutive weekends - the Lansing Lighthouse 5K, the Dryden Run for the Pride, and the Groton Labor Day 5K. Prizes are awarded after the Groton Labor Day 5K.
Due to different distances being run during the 2019 Dryden Run for the Pride, the final 2019 Triple Town Grand Prix Series standings are based on the combined times of the Lansing Lighthouse 5K and Groton Labor Day 5K from among the competitors that completed all three races.
View 2019 Triple Town Grand Prix Series race photos
2019 Grand Prix Final Results - Female
Name
Dryden
Lansing
Groton
Overall
Age
City
Monica Moll
✓
0:22:54
0:23:42
0:46:36
38
Ithaca
Tonya Engst
✓
0:24:39
0:25:19
0:49:58
51
Ithaca
Sophia Darling
✓
0:24:31
0:25:39
0:50:10
44
Groton
Vanessa Bell
✓
0:30:21
0:24:53
0:55:14
13
Ithaca
Samantha Nash
✓
0:27:19
0:28:17
0:55:36
24
Groton
Judith Drake
✓
0:27:53
0:30:15
0:58:08
50
Groton
Cathy Hall
✓
0:30:54
0:33:13
1:04:07
59
Moravia
Shantel Hays
✓
0:30:51
0:34:31
1:05:22
27
Groton
Deanna Kilanowski
✓
0:36:27
0:39:21
1:15:48
25
McGraw
2019 Grand Prix Final Results - Male
Name
Dryden
Lansing
Groton
Overall
Age
City
Drew Jackson
✓
0:19:20
0:19:43
0:39:03
17
Groton
Robert Brehm
✓
0:20:01
0:19:48
0:39:49
17
Groton
Keith Eggleston
✓
0:19:45
0:20:21
0:40:06
59
Groton
Andrew Roth
✓
0:20:08
0:21:39
0:41:47
25
Groton
Brennan Brockway
✓
0:20:52
0:21:37
0:42:29
15
Groton
Dylan Sedorus
✓
0:22:17
0:23:26
0:45:43
14
Groton
William Munson
✓
0:24:00
0:24:31
0:48:31
55
Locke
Bryan Gorges
✓
0:24:54
0:25:42
0:50:36
34
Groton
Cameron Brehm
✓
0:25:19
0:26:06
0:51:25
16
Groton
Lucius Dann
✓
0:26:07
0:26:10
0:52:17
13
Lansing
Lane Darling
✓
0:29:13
0:32:10
1:01:23
10
Groton
Daniel Wakeman
✓
0:35:28
0:34:07
1:09:35
52
Dryden
Lucas Darling
✓
0:35:44
0:34:26
1:10:10
13
Groton
Tristin Weeks
✓
0:29:18
0:41:55
1:11:13
11
Groton